Honest to goodness, real flavoured
ice cream & sorbet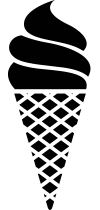 Our Super Premium Ice Creams are made from a simple egg free base, starting with fresh milk and a generous dollop of the world's best cream from Gippsland cows. We add genuine flavours including hand-made ripples. The texture is luscious and creamy and the flavours are fresh. All are gluten-free.
Our Sorbet is made to a traditional & simple style, egg free and full of fruit flavour, with a smooth heavenly texture. Gluten-free and dairy-free.
WE TAKE CARE TO SELECT THE BEST INGREDIENTS FROM AUSTRALIAN BERRIES TO FINEST BELGIAN CHOCOLATE AND MADAGASCAN BOURBON VANILLA
Currently there are 5 classic flavours available in 500ml take home tubs and 150ml single serve cups.
Our packaging is distinctive with silver-rimmed 500mL tubs and our 150mL cups are commercially compostable.