It all began overlooking the natural icon that is Wilsons Promontory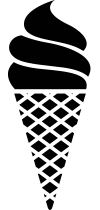 Prom Coast Ice Cream and Sorbet is an award winning, small batch ice cream producer based near Wilsons Promontory. We think we might just be mainland Australia's most southern ice cream and sorbet producer too.
Before our move to Wilsons Prom, we had both led professional lives living abroad as a former foreign correspondent (Daniel) and interior designer (Hilary). Together we left that behind for a beachside lifestyle over-looking Wilsons Promontory, and took over running the Walkerville Kiosk, a hidden local favourite.
You can't take the creative out of the creatives because it wasn't long before we started making and trialing our own scoop ice cream for the kiosk. Scoop ice cream had featured strongly for both of us growing up, particularly for Hilary who grew up in New Zealand where an ice cream-in-a-cone is part of the national fabric.
We started to notice that customers were driving long distances for our ice cream. The calls were coming too about how local businesses could stock our product. We kept hearing that our ice cream was a little different from the typical gelato and ice cream available. We kept refining the flavours and recipes based on what our customers were telling us, and support continued to grow.
In 2013 we sold the kiosk to concentrate on our frozen desserts and Prom Coast Ice Cream and Sorbet was born!
Today we produce a classic range of 9 different flavours across 3 varieties of Dairy Ice Cream, Fruit Sorbet and Coco-Cream (dairy-free ice cream), and you can find us in a range of businesses around Melbourne, across Gippsland and on the Mornington Peninsula.
In 2016 Prom Coast was recognised at the 2016 Australian Food Awards (AFA) – won a Gold Medal for Blood Orange Sorbet + Bronze for Creme Brulee Ice Cream + trophy for Best Sorbet (Best in Category).
Australian Food Awards program is conducted by The Royal Agricultural Society of Victoria (RASV).
You can read more about our products here. Detail on our flavours is here. Find the nearest stockist to you here.