It all began overlooking the natural icon that is Wilsons Promontory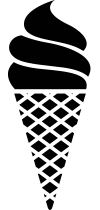 Prom Coast Ice Cream began when owners and creators Hilary Skelton and Daniel Encel started making ice cream when they ran the Walkerville Caravan Park Kiosk at Walkerville North Beach that overlooks Wilsons Promontory. As a Kiwi, Hilary insisted their fare include ice cream-in-a-cone. After searching for a commercial product and rejecting them all they embarked on making their own.
We had no previous ice cream making experience or knowledge other than eating it. By trial and error we came up with recipes and flavours and our customers were willing taste testers. The ice cream following gained momentum and when a customer said "I drove 150 km  for your lemon sorbet"  we thought we might be onto something.
Calls came from local businesses wanting to stock our products: Koonwarra Store and Inverloch Foodworks were the first to get on board. Buoyed by the momentum of further customers, we sold the kiosk to concentrate on production for our wholesale market.
Our ice cream and sorbet is the type we want to eat: creamy and dense ice cream and refreshing, fruit-filled and smooth sorbet in classic flavours, made with real food ingredients.
We supply all types of businesses large and small from breweries & wineries to supermarkets & general stores around Melbourne and regional Victoria.